March 3, 2020 General Obligation Bond Election

On March 3, eligible voters in the Alburnett Community School District will have the opportunity to vote on a referendum that would allow the district to take on a new general obligation bond to fund $11.64 million of upgrades and additions. 
Why?
In 2019, on the recommendation of a Facilities Advisory Committee — made up of community members, school board representatives, and district faculty — the Alburnett School Board called a special election to ask Alburnett district residents to vote on a measure that would allow the district to take on a general obligation bond to pay for facility improvements. In June, the proposed measure narrowly failed to secure enough yes votes to meet the 60% majority required by state law. 
Following the vote and subsequent additional input from both the general community as well as the Facilities Advisory Committee, the Alburnett School Board and district administration altered the proposed plan to meet immediate and long-term facility-related health, safety, and educational needs of all district students. The revised facilities plan includes something for everyone: 
14 additional classrooms for preK-12th grade, including new spaces for

Agriculture

Industrial Technology

Family Consumer Science

Music 

Auditorium

Renovated front entry

General renovations to classrooms, bathrooms, hallways

Improvements to safety, security, and function

Multi-purpose facility at the Martin Complex

Improved traffic and a student-only parking lot
Why Now?
We are still running out of space. Alburnett is a growing, changing district. Growth comes from more students and more programs. Change comes in the form of evolving student needs and teaching methods. Both add up to a lack of space. As our district continues to grow and change, the cost of the proposed additions and improvements will only go up. The revised facilities plan addresses the district's needs today and for the future. 
The cost of this project will only increase with time, while the existing facilities will continue to deteriorate. Because the Alburnett School Board has been aggressively paying down the principal on the 2007 General Obligation bond, we have saved $395,978 in interest and will pay it off seven years early. This allows us to consider a new General Obligation bond that could begin in 2021.
What?
The proposed plan will impact learning spaces for all ages at Alburnett. It will improve upon the existing facilities at the elementary and secondary schools through renovations as well as additions. As a result of the renovations and additions, we will be adding 14 new classrooms for preK through 12th grade. This includes new, improved spaces for agricultural, industrial technology, and family consumer science, which will now be located at the northwest corner of the campus. Music classrooms will also be relocated from the second floor to new classrooms adjacent to a new auditorium at the southeast corner of the building. A new multi-purpose facility at the Martin Athletic Complex will provide space for storage, locker rooms, and activities. We also will improve the safety, security, function, and overall aesthetic of our school facilities by renovating many spaces including classrooms, hallways, and bathrooms. Most importantly, we will be adding and improving spaces to support education and create opportunities for our students.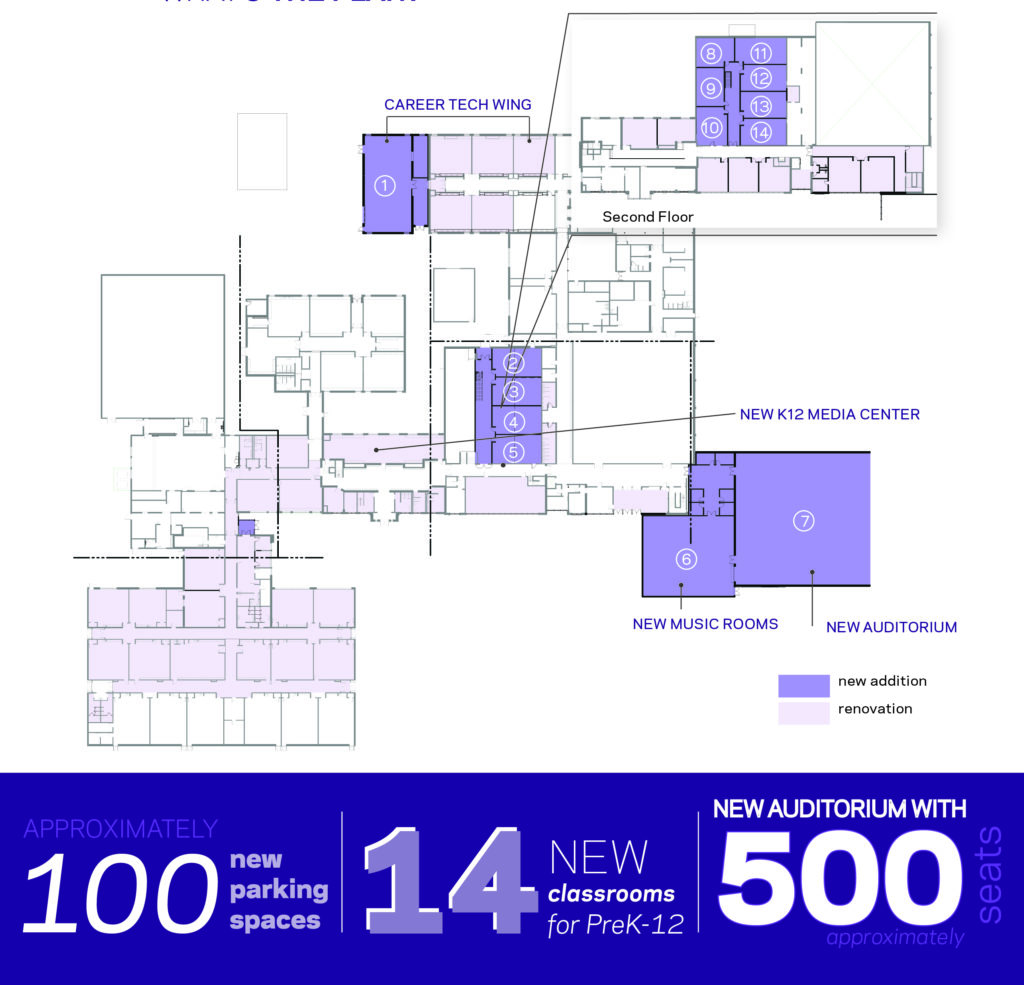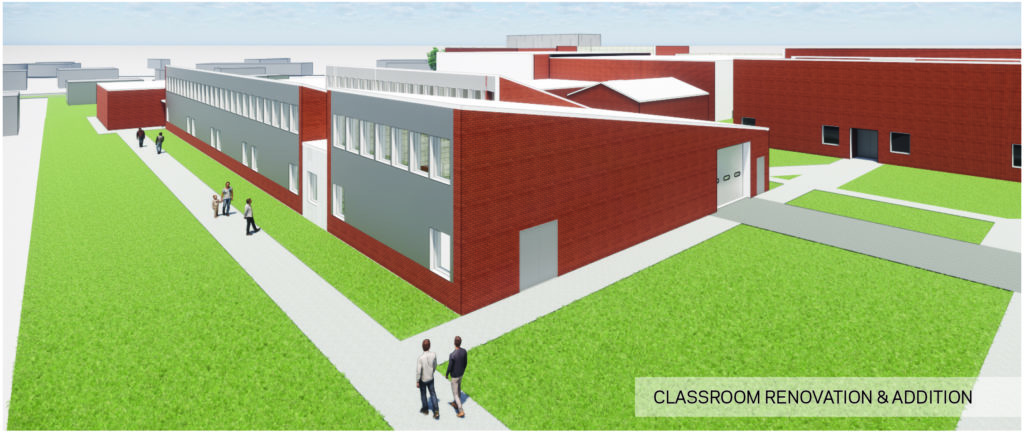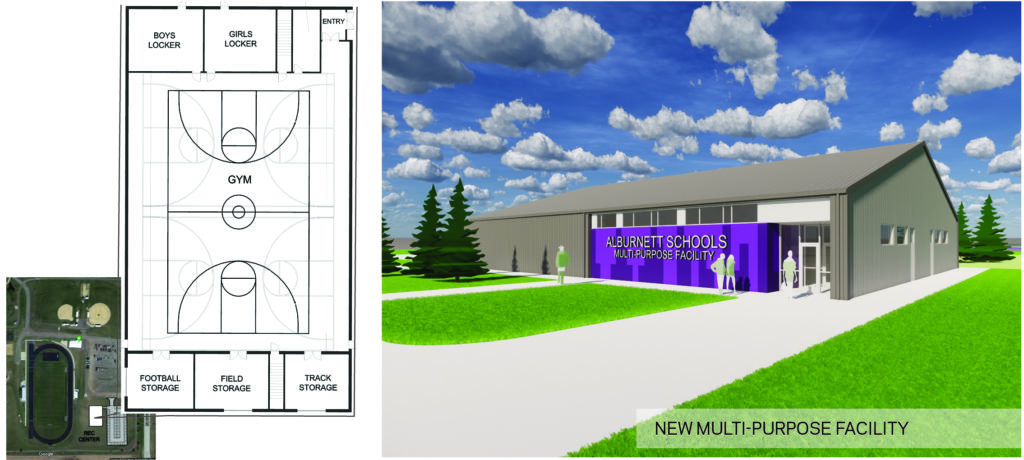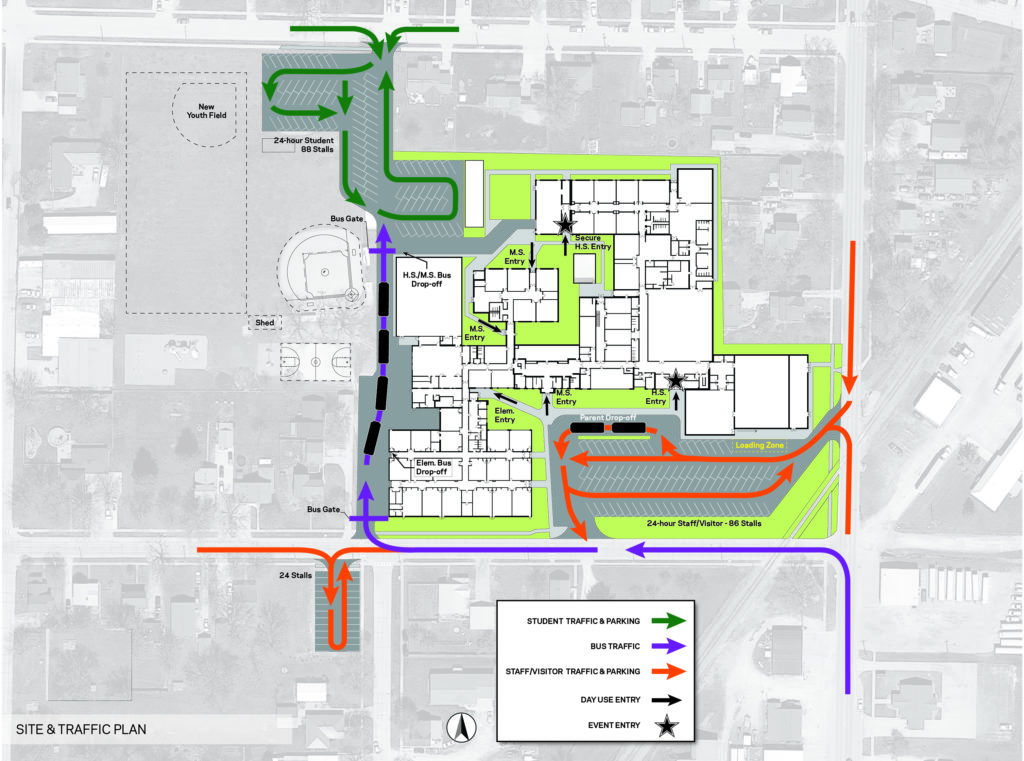 How?
This plan will cost up to $11.64 million. To fund this plan, the school board unanimously voted to ask residents of the Alburnett Community School District to approve a General Obligation Bond, which will increase property taxes.  
The current Alburnett school board and district leadership have been careful stewards both tax payer dollars and state revenue streams. Alburnett's tax levy has routinely ranked well below peer districts. By being fiscally responsible, the district was able to reduce the levy rate for 2020. As a result, when the bond passes, the new rate of $15.28 will still be significantly LOWER than the district's highest rate of $18.87 in 2014.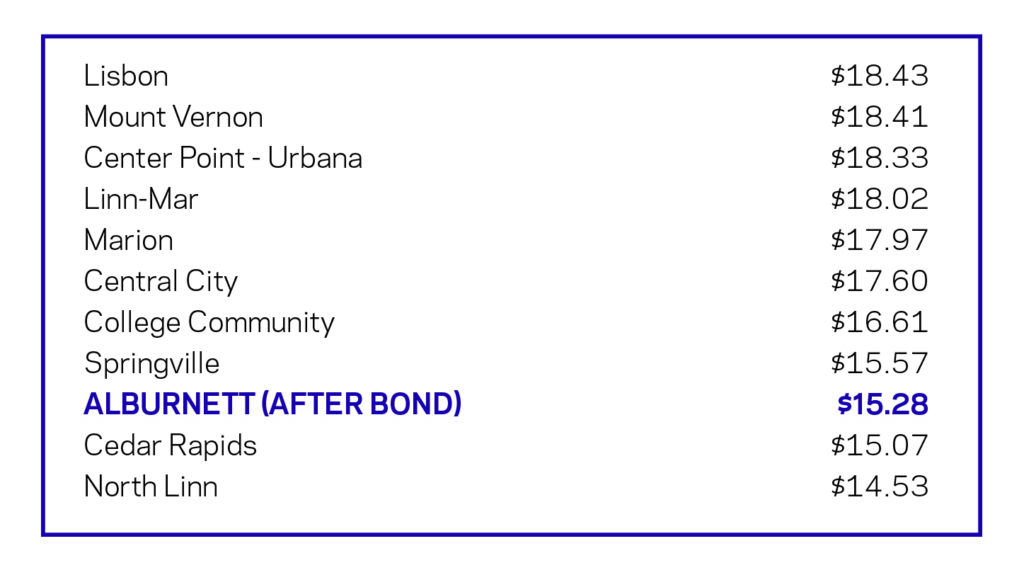 How does this specifically affect our taxes?
If approved, taxes would increase by an estimated $1.87 per 1,000 dollars of taxable valuation. Taxable value is not the same as market value. It is also not the same as the assessed value. The taxable value is the value determined by the auditor after application of state-ordered "rollback" percentages for the various classes of property and is the value indicated on the tax statement.  
For example, a home with an assessed value of $100,000, after rollbacks and homestead credits have been applied, has a taxable value of $55,074. A $1.87 increase per $1,000 would result in an annual change of $94.36, or the equivalent of $7.86 per month. 
The average assessed value of Linn County farmland is approximately $1,539 per acre. After rollback, the average taxable value is $1,254 per acre, resulting in an annual increase of approximately $2.36 per acre annually. 
If successful, our new tax rate of $15.28 would not take effect until 2021. Based on projected valuations of the district, it is also likely that the tax rate would continue to decrease throughout the 20-year life of the loan from the starting rate of $3.67 down to $2.09.

WHAT WILL I BE VOTING ON MARCH? 
On March 3, a date predetermined by state law, residents of the district will be asked to vote on the following referendum. Sixty-percent of voters much approve of the referendum for it to pass:
Shall the Board of Directors of the Alburnett Community School District in the County of Linn, State of Iowa, be authorized to contract indebtedness and issue General Obligation Bonds in an amount not to exceed $11,640,000 to provide funds to renovate, remodel, repair, improve, furnish, and equip portions of its existing building, and to construct, build, erect, furnish, and equip additions to the existing building, including related remodeling and site improvements; and to construct, build, furnish, and equip a multi-purpose facility at the Martin Athletic Complex?
Shall the Board of Directors of the Alburnett Community School District in the County of Linn, State of Iowa, be authorized to levy annually a tax exceeding Two Dollars and Seventy Cents ($2.70) per Thousand Dollars ($1,000), but not exceeding Four Dollars and Five Cents ($4.05) per Thousand Dollars ($1,000) of the assessed value of the taxable property within said school corporation to pay the principal of and interest on bonded indebtedness of said school corporation, it being understood that the approval of this proposition shall not limit the source of payment of the bonds and interest, but shall only operate to restrict the amount of bonds which may be issued?
WHY ARE THERE 2 QUESTIONS ON THE BALLOT?
The two questions on the ballot work together. The first question describes, in general terms, the type of improvements being proposed and the estimated amount needed to bond in order to complete the project. The second question asks for the ability to levy to fund the project, specifically the ability to levy up to $4.05 per $1,000 of assessed value. It's important to note, though, that the actual levy will be $3.67.
HOW DO I REQUEST AN ABSENTEE BALLOT BY MAIL
Requesting and voting by absentee ballot through the mail is an easy way to get your ballot mailed to your home or other destination if you are a registered voter in Linn County. Voting by mail allows you the convenience of voting from the comforts of home.
An original, hard copy request for a ballot must be received by the Linn County Election Services Office by 5 p.m. on February 21, which is 11 days before the March 3 election. 
No email or fax requests will be accepted unless followed by the original, in which case it must be received by the Election Services Office by the time the polls close on March 3.
Linn County Election Services
935 Second Street SW
Cedar Rapids, IA 52404-2100
When your ballot arrives, there will be additional items inside the delivery envelope:
A ballot for your precinct.

Instructions on how to complete your absentee ballot along with important dates related to absentee voting.

Secrecy folder to keep your voted ballot a secret.

A combined Affidavit/Return Envelope, which requires your signature on the backside. The returned envelope is postage paid.
Completed absentee ballots returned by mail must be postmarked on or before the Monday before Election Day (March 2). Postmarks are not guaranteed by the Post Office.
Why don't we buy land and build a new school?
Financial health of any school district stems from a multitude of factors. One of the contributing factors to the financial strength of the Alburnett district is our ability to run efficiently within one building. In the current school facility, even as square footage increases, we benefit from shared spaces that are used by all grades. Construction of a facility — such as a new elementary or middle school/high school — would result in a duplication of resources and functions. A second facility would require a second kitchen/cafeteria, gymnasium and locker rooms (depending on the grades), library/media center, operating systems, and parking. Most of these duplications are costly to build, furnish, and even staff. The logistics of adding another building to bus routes is another expense. 
When considering purchasing more land for expansion or new construction, the district-owned property at the existing site has ample space for the proposed expansion as well as future expansions if and when needed. The proposed plan is designed to allow for continued growth well into the future. 
Beyond these efficiencies and room for future growth, there is also something uniquely Alburnett about the PK-12 school environment. Students of all ages share stories of watching the "big kids" or working with the "little kids" as a normal part of every day. Families tell of the value that is placed on knowing everyone is in one place each day. 
How will these additions affect access and parking? 
Parking and traffic flow are addressed as part of this plan. The project budget includes funding for site improvements that will improve traffic flow during drop-off and pick-up as well as create  an additional 100 parking spots. Reconfigured parking will allow for faculty and guest parking during the day and event-specific parking in the evenings at the front of the school, most convenient to the gym and new auditorium. Students will also get their own designated lot. 
What will the renovations and additions look like? 
As part of the project, most of the school will see general improvements to the walls, floors, lighting, and furnishings. This includes nearly all bathrooms. Renovated spaces include new ag/tech classrooms on the building's northwest corner as well as a PK-12 media center on the first floor centrally located near the small gym. The existing media center will become classrooms, as will the existing music room. The stage of the small gym will be reclaimed and transformed into classrooms as well. The family and consumer science room will be upgraded. Renovated classrooms throughout the school will range in size from 800 to 1,000 square feet depending on the function. By comparison, many current classrooms are around 600 square feet.
At the front of the school, in the space now occupied by the ag/tech wing, another addition will create an auditorium and music room. This nearly 13,000-square-foot addition creates an opportunity to improve the school's main entrance as well. The auditorium will accommodate 500 seats. A lobby off the entrance will accommodate pre-function gatherings and will allow for the majority of the school to be closed off during events.
Yes, but what will it actually look like? 
The honest answer is we don't know yet. And, that's a good thing. Typical pre-referendum design includes programming – the process by which architects determine space requirements – and floor plans representing the results of the program analysis. After the bond passes, the real design work starts going from concept to schematic design to construction documents (also known as architectural drawings) and ultimately construction. Schools reflect a community's personality, pride, and philosophies. Before the design of Alburnett's new spaces, OPN Architects will spend time getting to know the community's collective vision for how the building will be used and what each space should provide. OPN Architects will help Alburnett analyze, assess, and synthesize data, methodologies, and facilities to create a blend of physical, digital, and immersive environments that enable your staff to teach and mentor the next generation of innovators, creators, collaborators, and leaders. 
Why do we need an auditorium? 
The Alburnett school is the heart of our community. As such, it is a natural gathering place for a myriad events. An auditorium will serve more than the school. Like the rest of the facilities, it will be open to the community. The school district will use the space for more than music and dramatic performances. Auditoriums are more than performance venues. They are large classrooms for fine arts and technology programs. It will also fill an unmet need in the district for a space to host other events for large audiences – speakers, graduations, professional development days, etc …  — without monopolizing gym space. The new auditorium will also be safer and more comfortable than our existing performance space in the small gym. 
What about the small gym?
A critical part of this facilities assessment process has been the investigation of multiple scenarios and solutions, including repurposing the small gym for additional classroom space. To compensate for the much-used practice space, the proposed plan includes a new multi-purpose facility at the Martin Athletic Complex for athletic storage, locker rooms, and activities. 
How will this project improve safety and security? 
Alburnett already has a secure main entrance with the office located at the front of the school requiring all visitors to check in before entering. These doors are locked during the day, so visitors must also be buzzed in. As a result of this bond, we will be able to enhance these security measures with doors that can lock at the flip of a single switch as well as security cameras. We will also be upgrading the fire alarm and communication systems. 
How do school facilities affect economic development?
Schools are integrally tied to a community's economic vitality. According to a recent study by real estate search engine Trulia and Harris Interactive, the majority (57 percent) of parents with children under 18 would pay above listing price to live in the neighborhood with ideal schools. As Alburnett looks to the future, school facilities that match the caliber of education we provide our students, will play a critical role in our community's growth.
Why can't we pay for these improvements without a bond vote? 
School district funding is a complicated issue. While generally it is considered wise to save money for a rainy day – or in this case a large expense – school districts are not legally allowed to stockpile large savings accounts. As a protection for tax payers, they are encouraged by law to operate in such a way that they spend all that they bring in each year. This general fund is used to pay salaries and buy supplies. Think of it like a checking account for day-to-day expenses. Other funding streams include PPEL, which can be used to improve ground and buildings; and the 1-cent sales tax (SAVE), which can be used for capital projects. It is possible to use these funds for large-scale building projects. Alburnett's last expansion was funded by SAVE. Remaining SAVE revenue must be maintained to allow for a cushion should the district need to fix a broken window or replace a piece of equipment, for example. That is why, at this time, the school board has determined that the most fiscally responsible option is to ask voters to approve a general obligation bond.