March 3, 2020 General Obligation Bond Election

On March 3, eligible voters in the Alburnett Community School District will have the opportunity to vote on a referendum that would allow the district to take on a new general obligation bond to fund $11.64 million of upgrades and additions. 
Why?
In 2019, on the recommendation of a Facilities Advisory Committee -- made up of community members, school board representatives, and district faculty -- the Alburnett School Board called a special election to ask Alburnett district residents to vote on a measure that would allow the district to take on a general obligation bond to pay for facility improvements. In June, the proposed measure narrowly failed to secure enough yes votes to meet the 60% majority required by state law. 
Following the vote and subsequent additional input from both the general community as well as the Facilities Advisory Committee, the Alburnett School Board and district administration altered the proposed plan to meet immediate and long-term facility-related health, safety, and educational needs of all district students. The revised facilities plan includes something for everyone: 
14 additional classrooms for preK-12th grade, including new spaces for

Agriculture

Industrial Technology

Family Consumer Science

Music 

Auditorium

Renovated front entry

General renovations to classrooms, bathrooms, hallways

Improvements to safety, security, and function

Multi-purpose facility at the Martin Complex

Improved traffic and a student-only parking lot
Why Now?
We are still running out of space. Alburnett is a growing, changing district. Growth comes from more students and more programs. Change comes in the form of evolving student needs and teaching methods. Both add up to a lack of space. As our district continues to grow and change, the cost of the proposed additions and improvements will only go up. The revised facilities plan addresses the district's needs today and for the future. 
The cost of this project will only increase with time, while the existing facilities will continue to deteriorate. Because the Alburnett School Board has been aggressively paying down the principal on the 2007 General Obligation bond, we have saved $395,978 in interest and will pay it off seven years early. This allows us to consider a new General Obligation bond that could begin in 2021.
What?
The proposed plan will impact learning spaces for all ages at Alburnett. It will improve upon the existing facilities at the elementary and secondary schools through renovations as well as additions. As a result of the renovations and additions, we will be adding 14 new classrooms for preK through 12th grade. This includes new, improved spaces for agricultural, industrial technology, and family consumer science, which will now be located at the northwest corner of the campus. Music classrooms will also be relocated from the second floor to new classrooms adjacent to a new auditorium at the southeast corner of the building. A new multi-purpose facility at the Martin Athletic Complex will provide space for storage, locker rooms, and activities. We also will improve the safety, security, function, and overall aesthetic of our school facilities by renovating many spaces including classrooms, hallways, and bathrooms. Most importantly, we will be adding and improving spaces to support education and create opportunities for our students.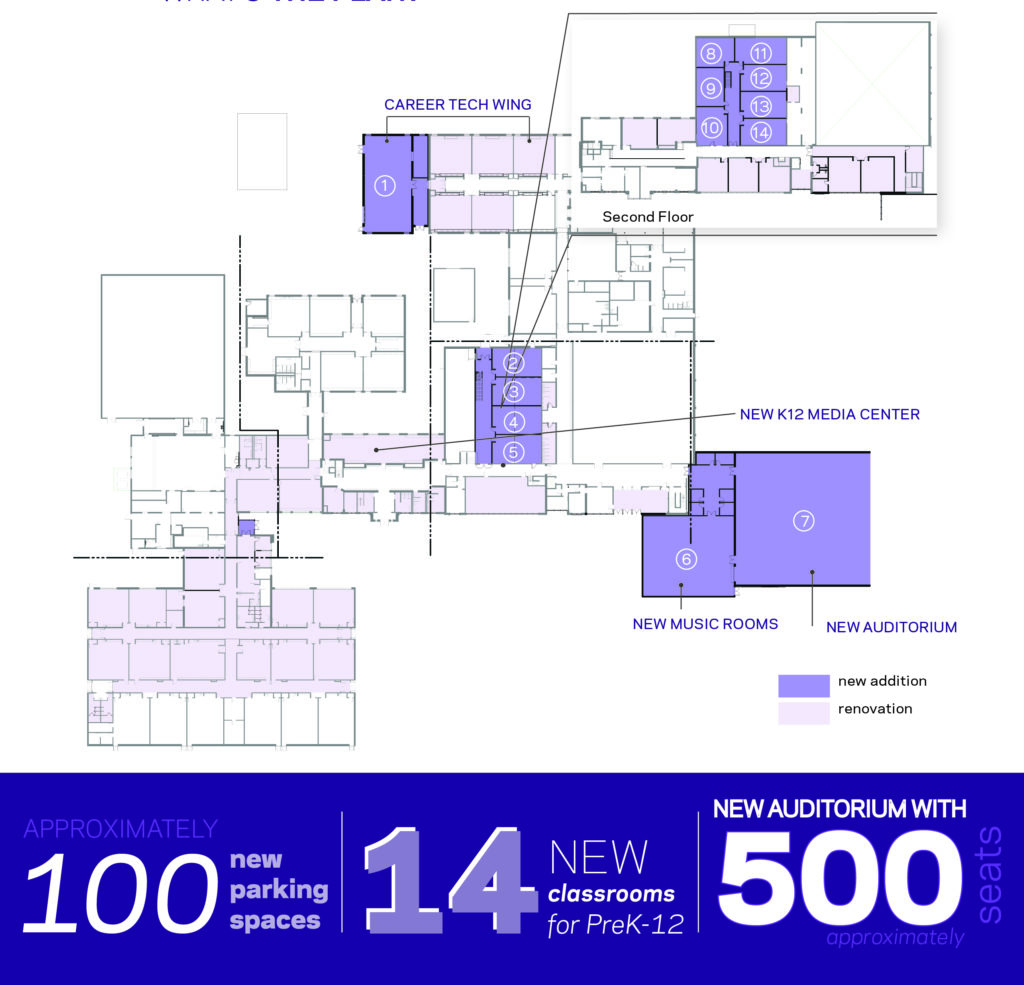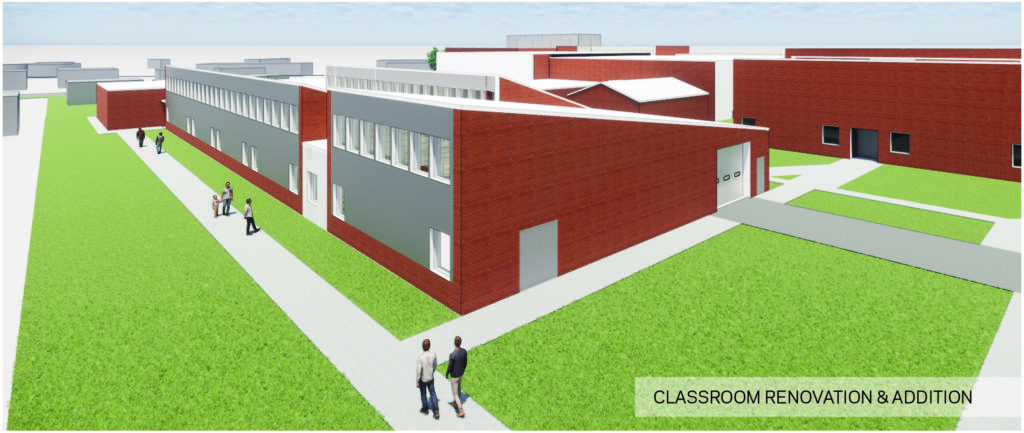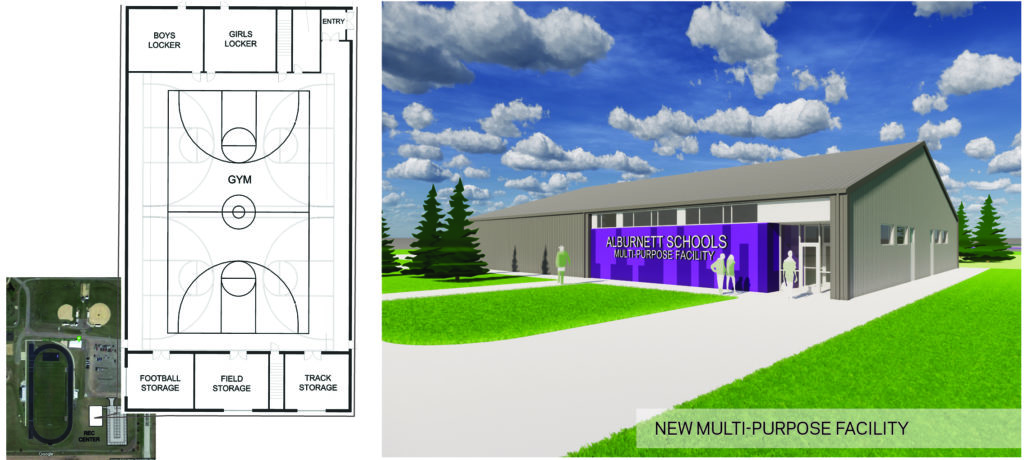 How?
This plan will cost up to $11.64 million. To fund this plan, the school board unanimously voted to ask residents of the Alburnett Community School District to approve a General Obligation Bond, which will increase property taxes.  
The current Alburnett school board and district leadership have been careful stewards both tax payer dollars and state revenue streams. Alburnett's tax levy has routinely ranked well below peer districts. By being fiscally responsible, the district was able to reduce the levy rate for 2020. As a result, when the bond passes, the new rate of $15.28 will still be significantly LOWER than the district's highest rate of $18.87 in 2014.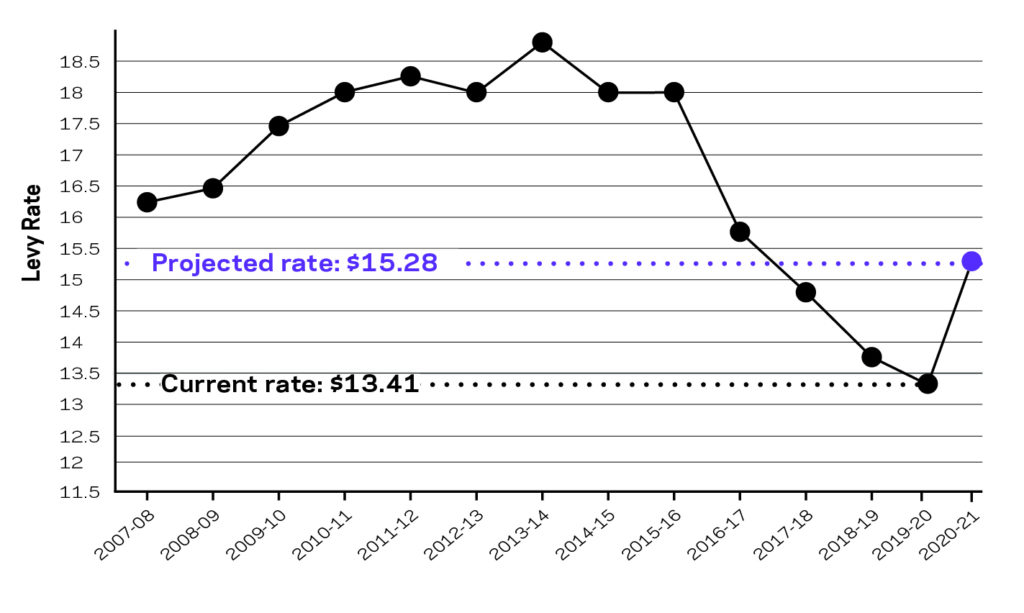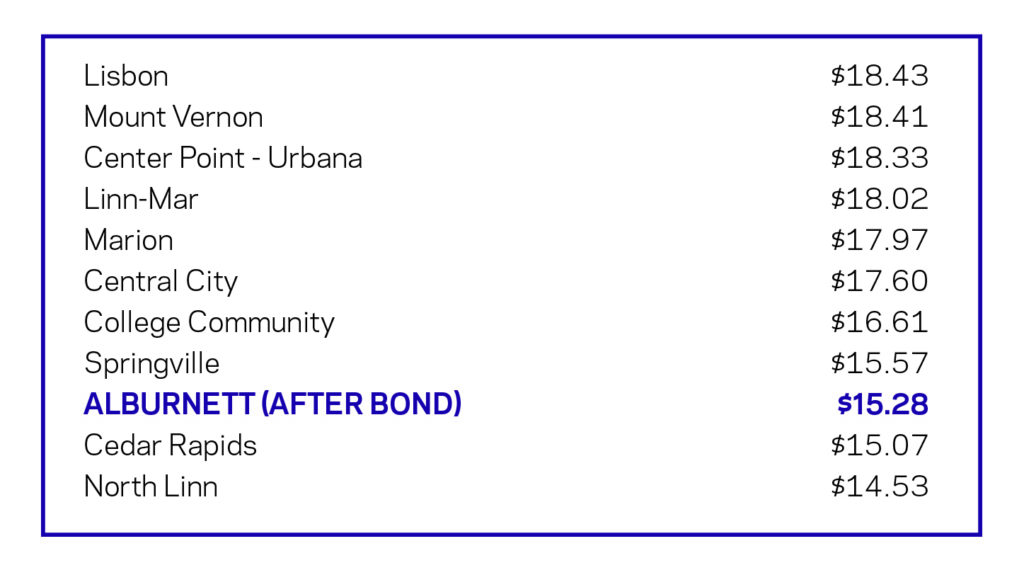 How does this specifically affect our taxes?
If approved, taxes would increase by an estimated $1.87 per 1,000 dollars of taxable valuation. Taxable value is not the same as market value. It is also not the same as the assessed value. The taxable value is the value determined by the auditor after application of state-ordered "rollback" percentages for the various classes of property and is the value indicated on the tax statement.  
For example, a home with an assessed value of $100,000, after rollbacks and homestead credits have been applied, has a taxable value of $55,074. A $1.87 increase per $1,000 would result in an annual change of $94.36, or the equivalent of $7.86 per month. 
The average assessed value of Linn County farmland is approximately $1,539 per acre. After rollback, the average taxable value is $1,254 per acre, resulting in an annual increase of approximately $2.36 per acre annually. 
If successful, our new tax rate of $15.28 would not take effect until 2021. Based on projected valuations of the district, it is also likely that the tax rate would continue to decrease throughout the 20-year life of the loan from the starting rate of $3.67 down to $2.09.